The School City of Hobart is
dedicated to providing a variety
of early childhood opportunities
to meet the needs of every family.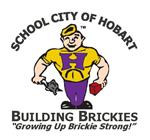 Do you have children age 5 and under? Join
Building Brickies
today! Join in the fun at play groups, parent workshops,
school readiness classes, and open play. We offer
home visits, developmental screenings, and community
resource referral. Our goal is to help every parent be
their child's first and best teacher, so every child is ready for
school. Join our free program today!
The School City of Hobart offers full day kindergarten. Click
here
to learn more about the kindergarten curriculum.
Early Childhood Development
The Northwest Indiana Special Education Cooperative offers several sites for EC classes. In Hobart, the program is located at the Early Learning Center at George Earle Elementary. All screening for eligibility for this program is performed at the ELC.