Freedom Tree Planting & Re-dedication
in Memory of Major Gordon Scott Wilson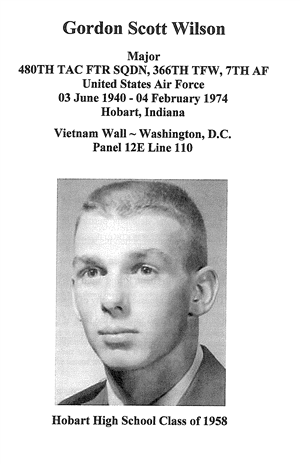 On November 22, 1966, our classmate and friend, Major Gordon Scott Wilson, USAF and graduate of the Air Force Academy was flying a F-4C Phantom over North Vietnam when it was hit by a SAM (surface to air missile). Both Scott and his navigator, Joe Crecca ejected. Scott was apparently hit by flak after ejecting. Joe was picked up by the Viet Cong when his chute brought him down. He was taken to Hanoi Hilton where he spent the next 6 years and 3 months. Scott was carried as Missing in Action, being promoted twice, until the Secretary of the Air Force approved Finding of Death for him on February 4, 1974. His remains were repatriated to the United States on April 10, 1986, with positive identification announced on October 22, 1986. Scott was interred in Plot 006-A-004 in the cemetery of the United States Air Force Academy in Colorado Springs on November 22, 1986 ~ twenty years to the day after he lost his life in the service of his country.
On July 28, 1973, the class of 1958 planted a Sunbust Honey Locust dedicated to his memory. The date of dedication was chosen to coincide with the 15th class reunion of Hobart High School Class of 1958. The tree was planted near the flagpole on the front lawn of the then Hobart High School on 8th Street. The bronze plaque presented by VIVA (Voices in Vital America) was set in concrete at the base of the tree. The plaque reads as follows: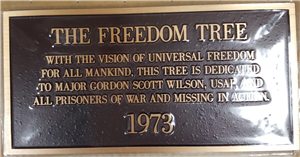 The tree was cut down by vandals, It was replaced by the Hobart High School Student Council in 1987. It is believed the second tree and original plaque were destroyed when construction began to convert the old high school into the new Middle School. Now, thanks to persistent efforts by Paul Throne, the School City of Hobart has purchased a new tree and bronze plaque in his memory ~ 50 years after his plane was shot down. This day was to honor our friend and classmate by dedicating this tree in his memory. To read more about Major Scott and Joe Crecca, see the article here.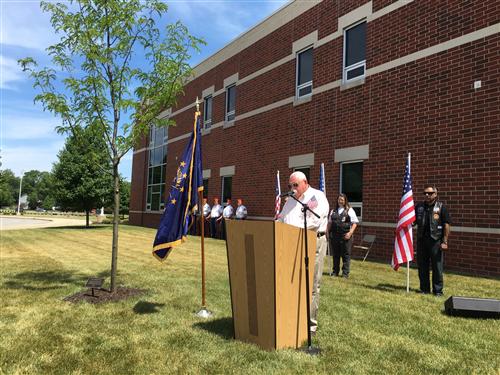 Dr. Buffington also spoke at the ceremony,
"What a beautiful day to rededicate the Freedom Tree in memory of our distinguished Hobart Brickie Alumnus Major Gordan Scott Wilson.
To the class of 1958, Dorinne Richardson, Paul Throne, we thank you for your due diligence to keep this hero in our hearts and minds as a reminder of the ultimate sacrifice our soldiers pay for freedom.
President George Bush said
, "We must remember that many who served in our military never lived to be called veterans. We must remember many had their lives changed forever by experiences or the injuries of combat. All veterans are examples of service and citizenship for every American to remember and to follow."

The School of Hobart teach children to honor our veterans. On Veteran's Day we have assemblies in every school with invitations to our military heroes to deliver a thank you and recognize them for the gift of living in the United States of America where freedom abounds. Over 4000 children, seeing for their very own eyes, the men and women who gave their all for them to live in a nation of opportunity and extraordinary privilege, is expressed with gratitude and heartfelt thanks as it should be.
It is our duty to teach every generation to remember and to follow the example of service such as our very own Brickie, Major Gordan Scott Wilson. May this Freedom Tree stand tall and represent the memory, sacrifice and love of country we are forever indebted and thankful for by the brave who serve. God bless our military, their families and this great country."